While I had a brush with
Future Pinball
before, I just now really delved into it. One thing I can say Parallels will likely become my dedicated pinball box now.
So, there I was trying to have Pro Pinball: Timeshock's sound to work properly in DOSBOX after its purchase from GOG, and I just couldn't figure out why it wouldn't play the sound effects, while the music worked just fine. I got a bit frustrated with it so I was generally browsing around about pinball games and such, and I stumbled upon Future Pinball and its sibling Visual Pinball again. I've tried running anything in the latter and found it beyond aggravating... Okay so I was trying to get some not so legal PinMAME stuff to work because I was curious of how well they really recreated them. Long story short, I gave up on it since there was always something wrong with this or that file.
I knew I wouldn't have these kinds of problems with Future Pinball so I just jumped back onto that, hoping it would run okay. In the past I had not so much luck; that is, if it even wanted to start up at all. It certainly shows how far Parallels has come that it can now run the app smoothly - it probably helps that I have a much better machine now, too - with only some minor quality degradation. I only have to turn down very few bells&whistles and lower the resolution a tad, but after that it runs incredibly smoothly.
One thing I do find quite impressive is some of the tables these users have come up with. Sure, something like the recreation of the classic Indiana Jones table is quite fun to play, but it's some of the original designs that bowled me over. Yes, they may borrow sound and music from their respective movies, but that gives them an incredible authentic feel even if they're just fan creations. Very well made ones at that.
I give to you Star Wars: Empire Edition and Alien Legacy: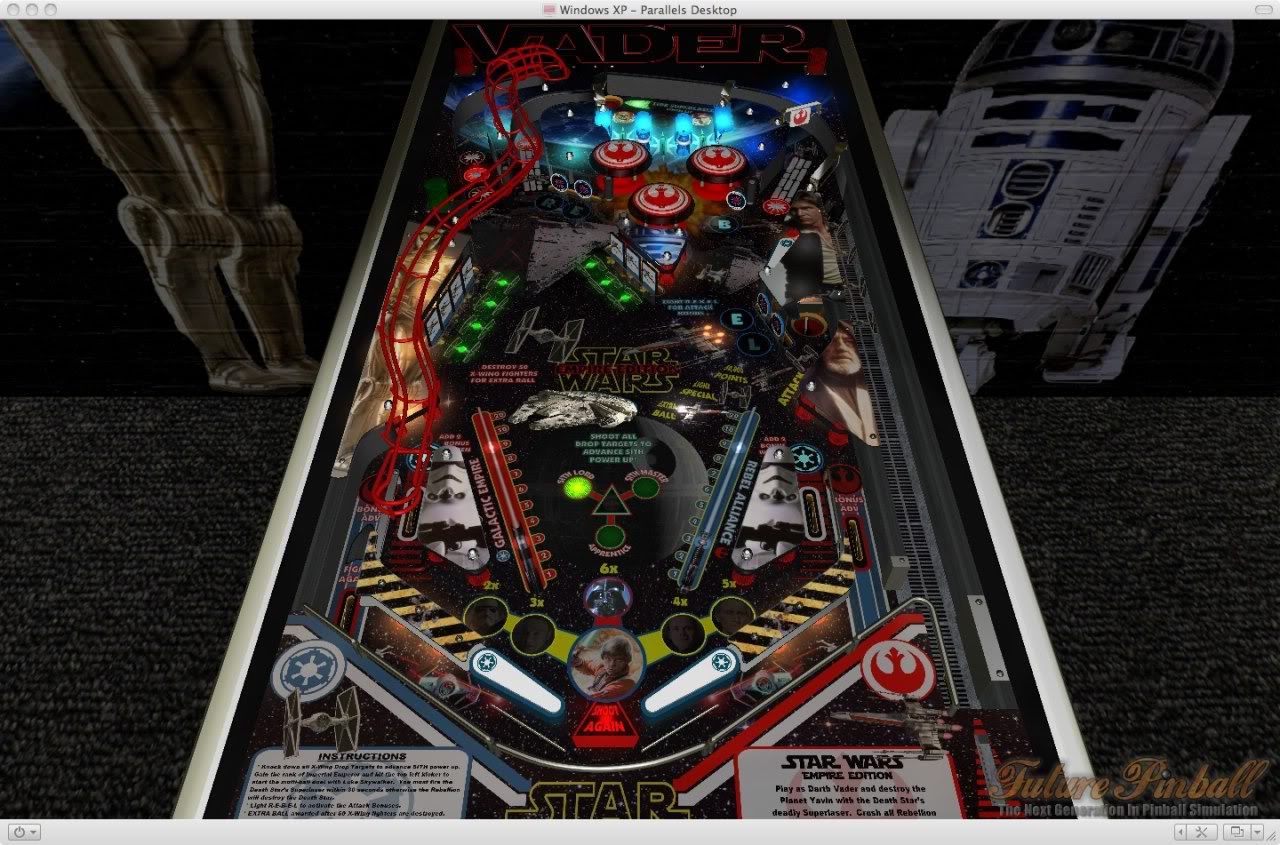 All in all, I can heartily recommend Future Pinball to anyone who only even has the remote itch of flipper madness.
P.S. It's highly unlikely there will ever be a Mac version since the app heavily relies on Windows-specific code.