Link to main site
>>> http://minecraft.net/ <<<
go here, okay?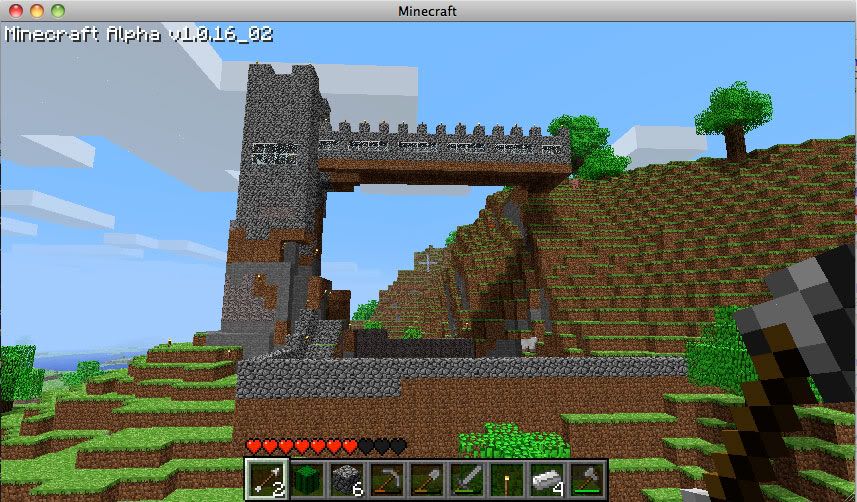 (Pictured: My sweet crib, yo!)
No, it's not an RTS about laying mines! It's a survival/building/open world (HUGE world! Everything is procedurally generated, so the size of each world is
potentially infinite!
game in which everything--literally,
everything
--is destructible, and most things drop materials you can use to build or craft useful things, which is pretty good, because you start out with
nothing buy your wits, bare fists!
Fortunately, after beating the everliving crap out of a tree or two, you will have obtained enough wood to start crafting things, beginning with the crafting table you will need to craft most of the other items in the game. There are many things to craft, like picks, axes, swords, and armor, and many variations on them depending on the materials you use to craft them! The crafting recipes are generally fairly intuitive, but if, like most people, you don't want to trial-and-error your way through it, there's a
handy dandy wiki, Minepedia
, to help you with the basics, and list all the known crafting recipes.
As cool as all this building stuff is, though, there is an actual game here. I mentioned survival, and I meant it! In the main game mode, there's a day-night cycle in which a bunch of jerks (skeleton archers, giant spiders, zombies, and everyone's favorite little living time-bombs,
creepers!
) spawn at night with the goal of making you dead, so you'd better dig yourself in and create a "safe" base for yourself before the sun goes down. Once you've established yourself, there are vast networks of natural caverns going deep into the ground, and the deeper you go, the better the ore deposits you'll find! Be careful, though, and bring a lot of torches, because monsters spawn anywhere that's dark and large enough, and never dig down or straight up unless you feel like getting a face full o' lava! There are even hidden monster rooms with chests full of loot (and you can always loot the chests themselves, too!) and monster spawners in them.
If survival isn't your thing, though, there's still Creative mode, with no beasties trying to ruin your day. (It's also free on the main site!)
And when I say there's lots of stuff to craft, I mean it! Highlights include minecart tracks and minecarts (build rollercoasters!) torches for light, and redstone wires and torches, which can be used to power switches, and can even be used to
build logic gates
!
But wait, there's more! Multiplayer, you ask? Multiplayer, I say! There's also a server daemon available, and although it's not quite up to parity with Survival Single Player yet, Notch (Minecraft's creator) is working on it! For now, you can still get together with friends and build neat stuff on one server, just make sure you stick your inventory items in a chest before logging off, and be aware that it's a little buggy for now.
Finally, although Creative mode is free, the main, meaty, creeper-filled game is not free. Although it's technically in Alpha, Notch decided to be pretty cool, and let everyone who pre-orders it at
half price for €10 (about $13 US currently)
download and play the alpha version of the game.
If you want a more in-depth description and a whole crapton of links to further resources (such as skins for your character and skins for the entire game!) here's the Something Awful thread on it:
http://forums.someth...hreadid=3323710
Oh yeah, and it's all done in Java, so it should run on any machine with decent enough graphics hardware. Even your Linux friends can play!