I know some people may consider this too little too late. But I figure at least one person around here might appreciate this.
I no longer play Doom 3 in Wine. The reason why I was running it in Wine was because the graphics enhancement sikkmod wasn't available for the Mac and also I could configure the game to use OpenAL Soft's DLL in Wine. But then I figured out how to replace Apple's OpenAL with OpenAL Soft fixing the sound in the Mac version and then someone
compiled the sikkmod for the native Mac version
fixing both things. So I'm back to native with that. The only thing missing in the Mac version of Doom 3 now is the expansion pack.
Basically in order to install the sikkmod you have to get the standard sikkmod package and install it as a normal mod. The best place to put it especially if you have the mac app store version of Doom 3 is in your ~/Library/Application Support/Doom 3/ folder thusly it'd be in ~/Library/Application Support/Doom 3/sikkmod/
I suggest
this one
as it includes high res textures to go with the updated visuals. Then you download the pk3 from the link in the first paragraph here and drop it in your sikkmod folder. That's what adds Mac support. In order to use the high res textures (or this mod in general) you need to set your visuals to "Ultra". Presumably you have a Mac that's capable of Doom 3 at beyond ultra settings before even attempting this. I used to run the sikkmod on my 2009 iMac at 1080p though in Wine without the high res textures. I'd say this is mainly for people who have kept up with the times hardware wise and would like to replay Doom 3 but with enhanced visuals, etc.
Then after that you can either launch it from the terminal or make an applescript applet to launch the mod. That's what I did...
Just open applescript editor and use this as the script...
do shell script
"exec /Applications/'Doom 3'.app/Contents/MacOS/'Doom 3' +set fs_game sikkmod"
Then go to file and export and export as an application. This'll give you an .app file that launches the game with the mod without having to use terminal. The quotations are important.. notice the single quotes around Doom 3 and the double quotes around the whole thing.
If you don't want two icons to show up in your dock when you launch the applescript you can go into info.plist in the applet and add the string "LSUIElement" and set it to "1" under the Root section. Or drag and drop the app onto the application "
dock dodger
". Dock Dodger doesn't work on many modern Mac applications but still works on applescript applets.
This advice also comes in handy for just about any games with mods that you would typically have to launch from the terminal... or command line versions of emulators. You can make custom icons to launch each mod or game. I've made applets to launch mame games, GzDoom mods and Mupen64 roms as well. I've been making my own custom game icons as well...
Here's the icon I'm using for Doom 3 Sikkmod Native...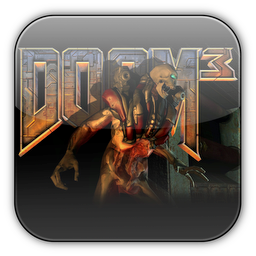 Here's the icon I'm using for standard Doom 3: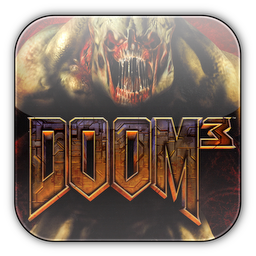 Here's one for Ressurection of Evil (which still has to be run in Wine and has its own sikkmod I might add):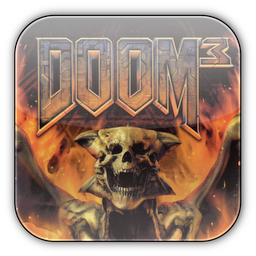 Click on each one to download the respective icons in .icns format with up to 1024x1024 size.
Screenshots of the native Doom 3 by Aspyr with sikkmod and high res texture pack applied and my current sikkmod settings:
Screenshot 1
Screenshot 2
Screenshot 3