This sticky is here to inform people about the impact of having more VRAM in your machine.
Rule about VRAM (video memory):
If you have more VRAM in your machine it will be able to play games at higher resolution textures
slightly
faster (I.E. DOOM 3 at 1920x1200).
However:
The upgrade is almost never worth the money when buying a new mac (for games atleast) I.E. extra $500 for new MBP, and your overall performance improvement will be negligible at best. Any speed increase you see on a mac with the higher-end card will most likely be due to the higher CPU speed and/or more RAM.
Here are some benchmarks to support my statement: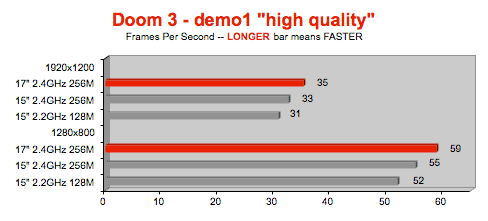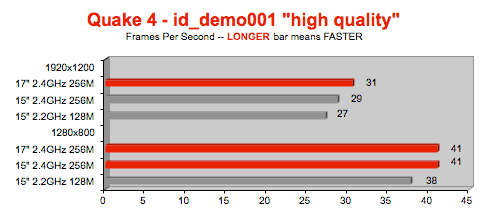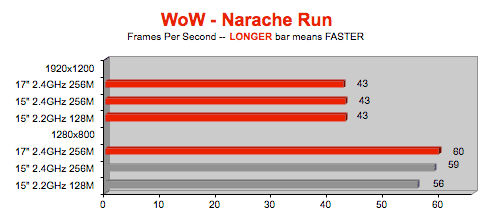 17" 2.4GHz 256M = 17" MacBook Pro "Santa Rosa" 2.4GHz Core 2 Duo with 256MB of GDDR3 SDRAM video memory and 2GB of DDR2 main memory
15" 2.4GHz 256M = 15" MacBook Pro "Santa Rosa" 2.4GHz Core 2 Duo with 256MB of GDDR3 SDRAM video memory and 2GB of DDR2 main memory
15" 2.2GHz 128M = 15" MacBook Pro "Santa Rosa" 2.2GHz Core 2 Duo with 128MB of GDDR3 SDRAM video memory and 2GB of DDR2 main memory
Images courtesy of Barefeats.com
Some general notes on VRAM (feel free to quibble):

What is VRAM?
VRAM is Video RAM. It's memory that resides on the graphics card and is dedicated for the card's use. It is often faster than regular system memory, and more importantly, its close proximity to the graphics processing unit (GPU) on the graphics card allows for quick access to data stored in this memory for rendering graphics scenes.

What is it used for?
It's used for any data that the graphics card needs to render a scene in a game: vertex data for models, textures, shader textures, a buffer for the pixel data that will be sent to the monitor.

So is more better?
Up to a point, yes. The general rule of thumb with RAM of any sort is that you will see an improvement up until you have enough, then there will be no improvement after that. This is because data stored in the VRAM is able to be quickly accessed by the GPU, while it takes longer to access the same data from main memory. If there's not enough room for all the data it needs in the VRAM, then it needs to store part of it in the computers main RAM, which takes longer to retrieve, and therefore slows down rendering times while the GPU waits for the extra data. So unlike a processor, where more speed is almost always an improvement, adding more RAM only helps until you've got enough to hold the data you need, and the rest is just wasted space.

Will more VRAM improve my framerates?
Maybe. It depends on the situation. More VRAM does not make the GPU process graphics data any faster, only access it faster when it needs it. So if you're trying to run a game at a high resolution like 1920x1200, that means that in the end, the GPU has to process 2,304,000 pixels, and the speed it can do that is ultimately limited by the capability of the GPU chip, and not by the amount of VRAM it has available. If the GPU is too slow to run a game at the resolution you're running it at, more RAM won't help.
However, since VRAM size determines the amount of data stored locally to the GPU, it will affect how much data can be involved and still run at the same speed. So you can use higher quality textures, more anti-aliasing, and more shaders (which are stored as images, similar to textures) at the same resolution and still get a good framerate because the card can hold all that data locally, and doesn't have to wait to fetch it from the main RAM. It's worth noting that the pixel buffer is stored in the VRAM - a higher resolution will increase the size of the buffer, which could then push other data out to the main memory.
So how come my card with (e.g.)128Mb doesn't run this game well!? It's an 128Mb card, and the requirements for the game are only (16/32/64/whatever)Mb!?
See the above answer. It most likely because the card in question pairs a slower or less capable GPU with a lot of memory. If the GPU is too slow to process everything going on in the game, then it doesn't matter that it has lots of memory. The main reason why this tends to happen is because the graphics card makers have lots of different models for any given generation, all of which have different capability. Add to this the fact that cards of different generations are available at any given time, and it can be confusing for people trying to figure out which card is the best to buy, or whether their card is as good as the one listed on the game box. Because of this, they quite often use 'graphics card with x-Mb VRAM' as a requirement for a game, or feature the amount of memory prominently on the box for a graphics card. In theory, because the amount of memory has been going up with each generation of graphics cards, this gives you a general idea of the capability of a card, but it's problematic.
The amount of memory on the card actually gives no idea what the capability of the GPU on that card is. To make matters more confusing, the graphics card makers will sometimes re-release an older GPU with more VRAM as a new card.
So how do I figure out what a good graphics card to buy is? / How can I figure out if my graphics card can run a game?
Instead of looking at the VRAM, look at the model number. There are lots of them, but in general you have the generation of video card, followed by the class of card, usually followed by a suffix. It can get confusing - but the model number gives a better general idea of capability. For example, the current (as of this writing) generation of nVidia cards are numbered as such: 8800, 8600, 8500, with the '88' series being the high-end, '86' as the mid-range, and lower than that as budget cards. The previous generation was similar: 7800, 7600, etc. Usually between generations of GPU, they come out with new cards that are using the same GPU, but running at a faster speed, for example, the 7900 series in between the 7800 and the 8800. It's expected that a 'refresh' of the current generation will be released with a similar naming scheme.
Try doing a search for a reviews and benchmarks of a particular card. The reviewers will quite often compare it with a few different cards, and use several games to test it, which gives both an idea of how that card compares with others, and how it runs various games. Here are some good review sites:
Places to find benchmarks:
www.barefeats.com (Mac-specific)
www.anandtech.com (PC - more cards than exist on the Mac, but it gives a good idea of how they compare to each other)
www.guru3d.com (similar to Anandtech)
www.tomshardware.com (ditto)
as always,
Google is your friend
.